The 2014 calendar has Easter Weekend, and the weekend closest to Earth Day together on April 19, and 20.  We are expecting a crowd both of those days at the Greater Des Moines Botanical Garden, for the Iowa Bonsai Association Spring Show.  The Botanical Garden and other organizations downtown are putting all their eggs in one basket for that Saturday's celebration of Earth Day.
Last year's Earth Day exhibits attracted nearly 1000 viewers.  We will again set up our bonsai exhibit in the Walsh Room plus the adjoining room, to double the space we had last year.
Public admission is free on that Saturday.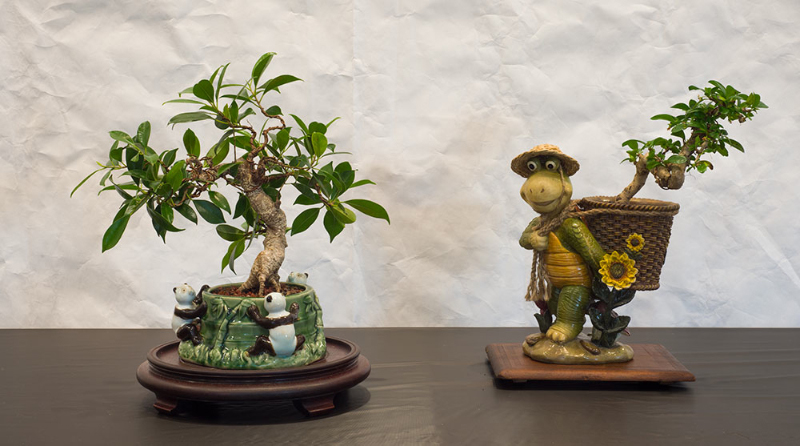 New this year will be one table of "Funsai".  I see this as a plant or tree with bonsai qualities, but in a fun container.  Attracting the attention of kids is the goal here, and perhaps helping them envision the bonsai as little trees when placed in a setting of other miniature items. Ultimately, it may turn their attention to our traditional bonsai and help them see the little ancient tree in each display. I expect this will also be fun for at least half of the adults.  Check out examples of "Funsai" among the 2013 Fall Show photos on the Iowa Bonsai Association web site.
The Botanical Garden is open both days from 10 a.m. – 5 p.m.
All of Saturday is a free admission day.
The Earth Day activities will be offered from 11 a.m. – 4 p.m.